4 Skills You Can Learn in 7 Days or Less
To Land a Remote Job in 2020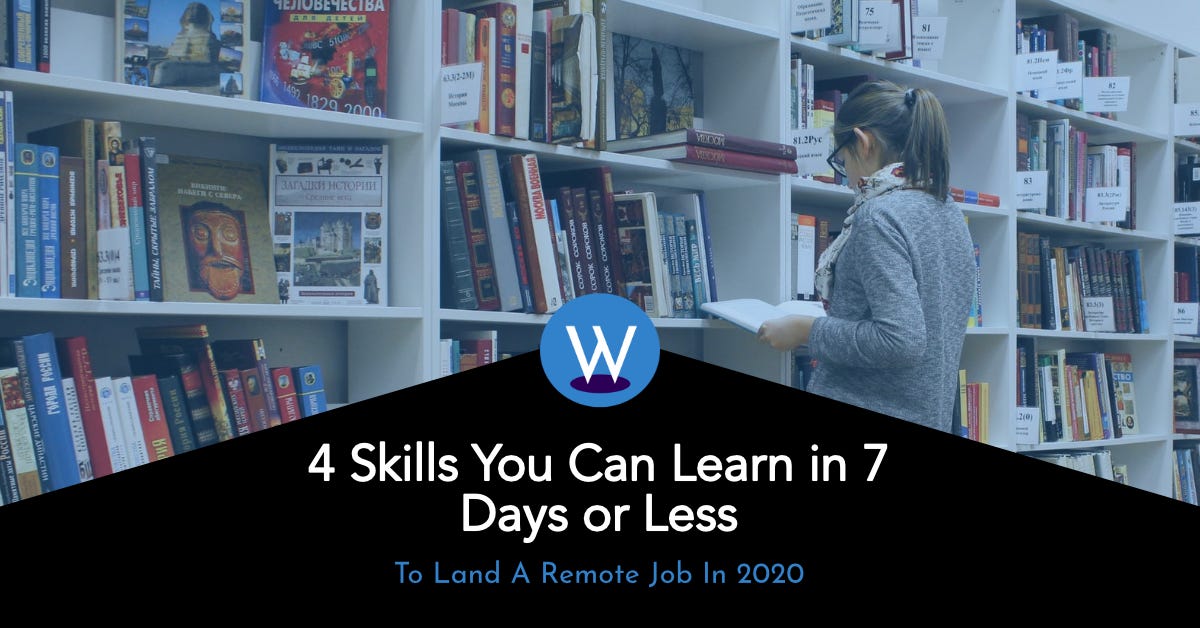 Typically, when searching for a remote job the biggest problem new entrants face is understanding what skills are currently in high demand. If you have an existing expertise or skill set that translates easily to a digital environment a remote career won't be so difficult to find.

However, if you don't have a skill set like programming, web design, or advertising finding a remote job can be challenging. Let's change that in 7 days or less. Below is a list of 4 skills you can learn that will make you more employable in today's marketplace. Let's be clear you won't be an expert at any of these things in 7 days but you can acquire entry-level skills that you can improve over time.
1. Graphic Design in Canva
If you have an affinity for design a craft worth learning is graphics design in Canva. Many small business owners, startups, and companies need help with social media design and Canva is quickly becoming a go-to tool for many small business owners. I won't pretend learning design is a 7-day skill. However, learning to create designs using Canva is feasible. There are also many free courses to walk you through the process.

Free or Cheap Canva Courses
The realistic approach to getting hired as a newbie designer is to find an internship or agency that's willing to train you while you work. Chegg has a running list of virtual internships located here -> https://www.internships.com/virtual there are also a bunch of small business owners all over the internet that will agree to a paid internship in exchange for an extra hand.
2. Blog or Article Writing
Surprisingly, the art of the written word is in high demand, even on the internet. In fact, finding consistent writers can be a huge challenge for many business owners. Consequently, if writing is your forte you're in luck. There's definitely a remote career out there for you. However, over the years I've found that many writers fail to market themselves appropriately. After all, if you can write well then you should have at least a free website, newsletter, or some sort of portfolio to show your potential employers what you can do.

Here's a blueprint that will help easily magnify your ability to get hired as a full-time remote writer.
Step 1 - Niche down. If you can find a topic that you are extremely knowledgable about then start a free blog or newsletter on it. Spend the next 7 days building out this blog or newsletter. Ideally, you'll want to showcase your best work. This will cost you nothing but time.

Step 2 - If you don't know anything about SEO or writing for search engines take a free or low-cost course. There are a ton of them out there. Here are a few:
Step 3 - Reach out to specific websites in your niche and see if they are interested in hiring a content marketer or full-time writer.
3. Helpdesk or Support
If you love people and have an affinity for customer support many remote companies especially SaaS companies are looking for support personnel. Quite honestly I'm a huge fan of stellar support and definitely believe as virtual CX interactions become the new normal more and more companies will transition to the remote framework. Adapting to the remote environment means you should be familiar with standard helpdesk software this includes: Freshdesk, Intercom, Jira, LiveDesk, Salesforce, ZenDesk, and HelpScout. You should also be familiar with how a knowledge base and ticketing system operates. Typically, every helpdesk software will provide its own set of training and tutorials. However, you can also get a leg up by taking additional courses and earning certifications. Here are a few you can explore below.
There are a bunch of other courses out there but I refrained from including the $300+ subscription courses. I'm sure you'll appreciate that. As a baseline, this alongside learning help desk software should equip you with the basic skill set to operate remotely. If you've never done a day of customer support in your life head over to Entrepreneur FB groups (I'll create another post about this) and find agency heads who are willing to provide internships. Afterall the best way to learn is to do.
4. Tutor or Teacher
If you're a teacher or have experience teaching and strong command for the English language the real challenge here is to find the right platform to teach on virtually. There are many different opportunities at the moment for teachers, tutors, or coaches. The key is to find the platform the fits you best. Here are some places to start.
The key here is to apply at scale. If you already have the skillset, degree, experience, or certification you may as well utilize the skillset here to find remote employment.
Final Thoughts
Keep in mind that today's hiring manager wants to be impressed. Therefore, look at the application process as an opportunity to market yourself. Create a standout resume or portfolio, do your research about the companies you'd like to work for and connect with people on LinkedIn who work or have worked at that company in the past. Use your strengths to stand out and help the hiring manager remember your name.