How to Find a Remote Job On LinkedIn
The Tactical Guide to Finding Remote Jobs Using LinkedIn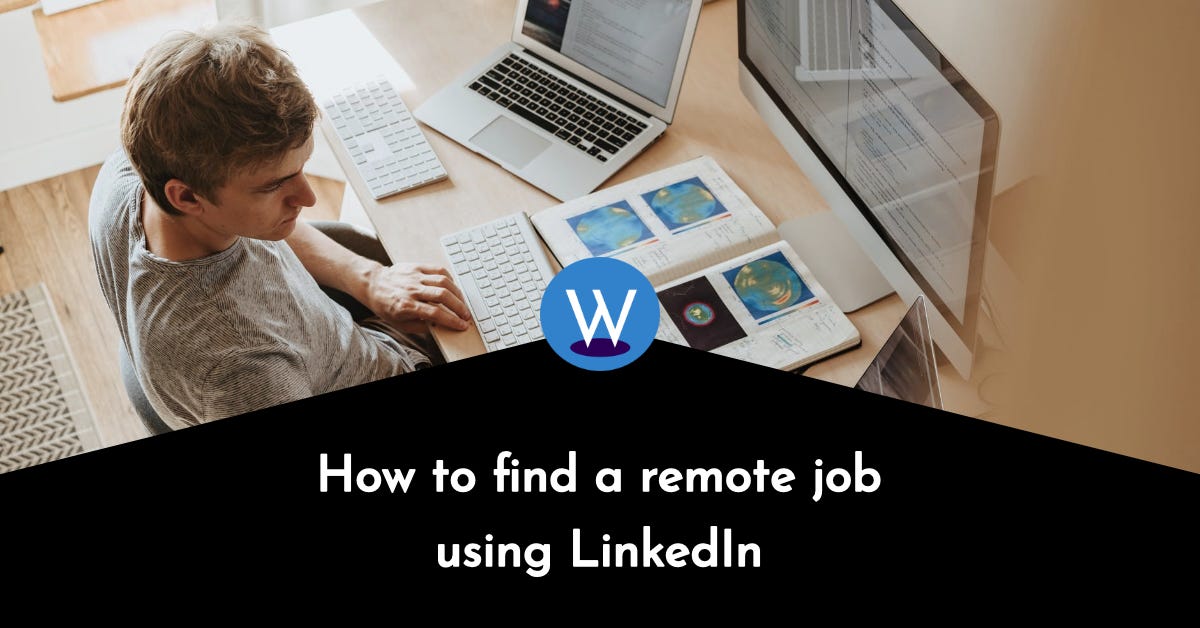 Here's how to find a remote job on LinkedIn. First and foremost, before you actually start applying to remote jobs you should definitely cover some starter steps to make the best first impression. Remote hiring managers and decision-makers are likely technologists, early adopters, and of course, they all know how to find people of the web (especially using LinkedIn).

Most budding remote professionals don't realize that LinkedIn's Premium plan allows users to view profiles incognito. Therefore, if you apply to a job found on LinkedIn or quite frankly anywhere remotely, you can bet that HR is looking at your LinkedIn profile. So, make the best first impression possible.
Creating Your LinkedIn Profile to Land A Remote Job
Some small details you can do to ensure your profile stands out include:
Update your avatar with a professional profile image

Optimize your biography

Ensure your profile is complete

Include degrees, certifications, projects, and past work experiences
If your LinkedIn profile feels a little bare make it more appealing by earning free certifications. For example, you can earn
This is really just scratching the surface of the free certifications and learning resources available on the Btw, don't forget to include volunteer information, causes, previous projects, and previous work experiences. Oftentimes, are shared cause or interest provides are great segue way to a natural and memorable interview process.
How to Search For Remote Jobs on LinkedIn
The intermediate steps to finding a remote job on LinkedIn really starts with simply understanding use the platform strategically. Here are the first steps you should take when searching for a job using LinkedIn.
Step 1: Set Your Job Preferences

Navigate to your LinkedIn profile account settings. Under "Data Privacy" select "Job seeking preferences" from there, you can manage what recruiters or companies see when you apply for a job or create job alerts.

For example, under job application settings you can upload a resume that will be submitted along with your job application. You can also signal interest to recruiters for companies you've created job alerts for. These subtle profile updates will help increase your visibility and help you get noticed by recruiters when a position is available.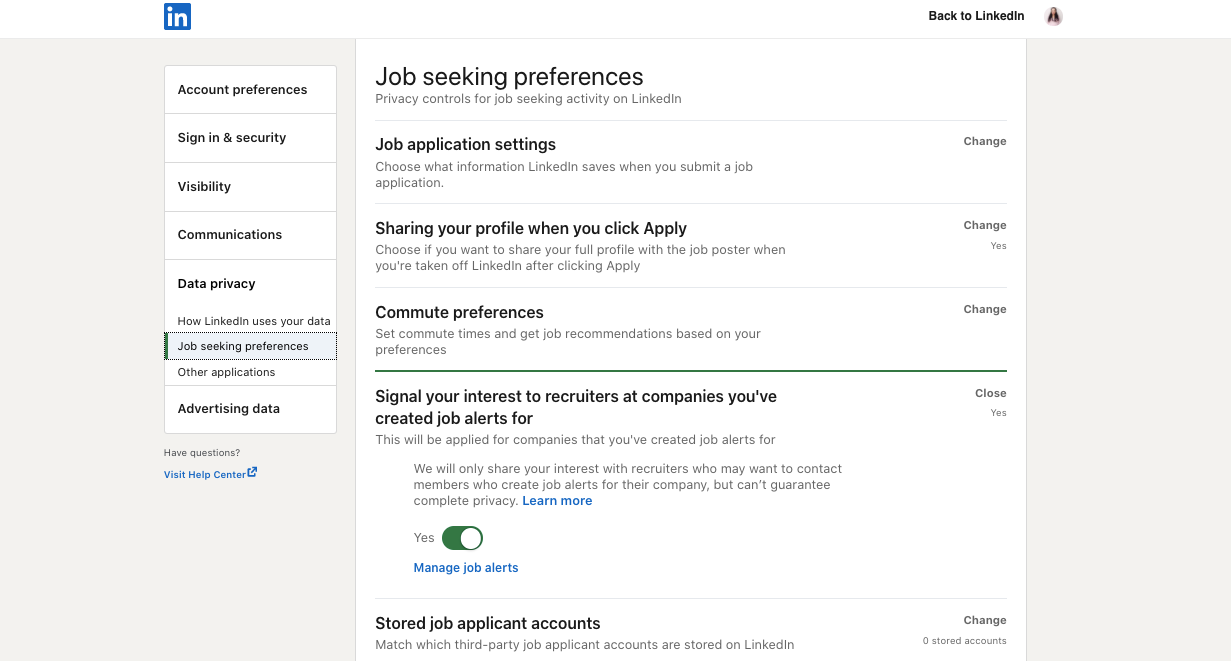 Follow Important Companies and Setup Job Alerts
Think of LinkedIn as a perpetual hub for opportunities. It's not a platform that you spend 10 mins a year on. Instead, strategically use it at least once a week to follow-up on companies you aspire to work for and stay in the loop on professional news.

Start by following your favorite companies. For example, I have a particular interest in companies that offer remote positions. Therefore, I'll begin by following the top 100 companies known for remote hiring. Below is a list of the 100 remote companies I follow on LinkedIn.
Clevertech

Toptal LLC

TaxJar

Hotjar

X-Team

Aha!

PhishMe

ReCharge Payments

Modern Tribe

DataStax

Doximity

Help Scout

Close

Animalz

Follow Up Boss

GitHub

Oddball

Uscreen

Shogun

Sticker Mule

Bitovi

Remote Year

Harvest

Gear Stream, Inc.

Hubstaff

CafeMedia

Zapier

Groove

iPresence

Stack Builders

OnTheGoSystems

Toggl

Hireology

Customer.io

Intellum

ReCharge

Tawkify

InVision

TeamSnap

SkyVerge

When I Work

MailerLite

MeetEdgar

Mokriya Inc

Automattic

Kinsta

Cofense

DockYard, Inc.

Nathan James

Inside.com

Piggy, LLC

G2i Inc.

Toptal

Contra

Trifecta Retail Ventures

SimpleTexting

Fleetio

ChartMogul

Packlane

Award Force

Dataquest

Leadfeeder

Ebury

Files.com

Pressable

CROmetrics

Pluralsight

Growth Machine

Juni Learning

Knack

ConvertKit

vidIQ

Spreedly

CVEDIA

51Blocks

Articulate

GovPredict

Waldo Photos

AgencyAnalytics

4D Pipeline

Empire Flippers

Olark

Basecamp

Monetate

Barrel

Museum Hack

Secret Benefits

AmaZix

Cro Metrics

Chili Piper

Grant Street Group

Custody X Change

Logikcull

MoveOn

Podia

workBK

Wildbit

WebPunch

Machinio

Baremetrics
After following companies you have a genuine interest in working for the next step is to set up a job alert. Why should you do this? It's quite simple. Companies may not be hiring when you follow them. However, when they are hiring you'll know because LinkedIn will tell you. To setup a Job Alert on LinkedIn navigate to the company, click jobs on the page menu, then select create job alert.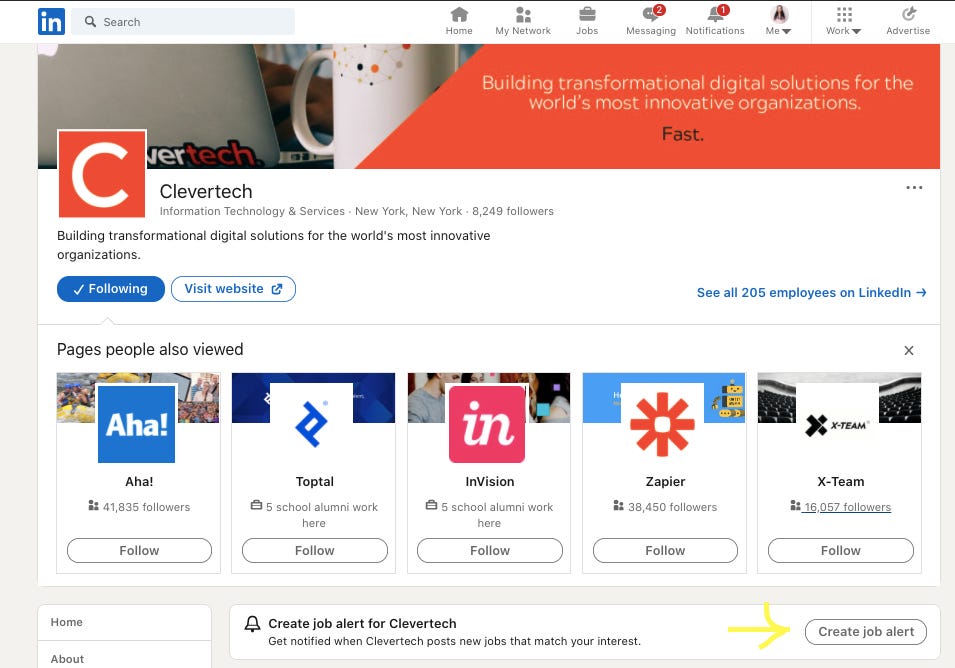 Now that you created job alerts for companies you love recruiters will also be signaled that you are interested when a job opportunity is live. Apart from job alerts you can also create 'search alerts' for job searches. Let's explore LinkedIn's job search feature in further detail below.
LinkedIn Job Search
LinkedIn is an excellent place to search for jobs. After all, it's the world's favorite professional network. That said, searching for a new job opportunity daily is not always feasible nor should it have to be. Instead, start several searches in the job portal and then create search alerts that can be emailed to you daily or weekly when new results appear for that search. To create a search alert navigate to LinkedIn Jobs.


From there go to your begin entering your initial search criteria.

In the example below, I search for Marketing Manager Jobs in the United States. To the right of the search results header, I can then toggle job alerts on or off. I can also manage the frequency of each alert I create using the settings option accessible via the right of the toggle or on the jobs homepage.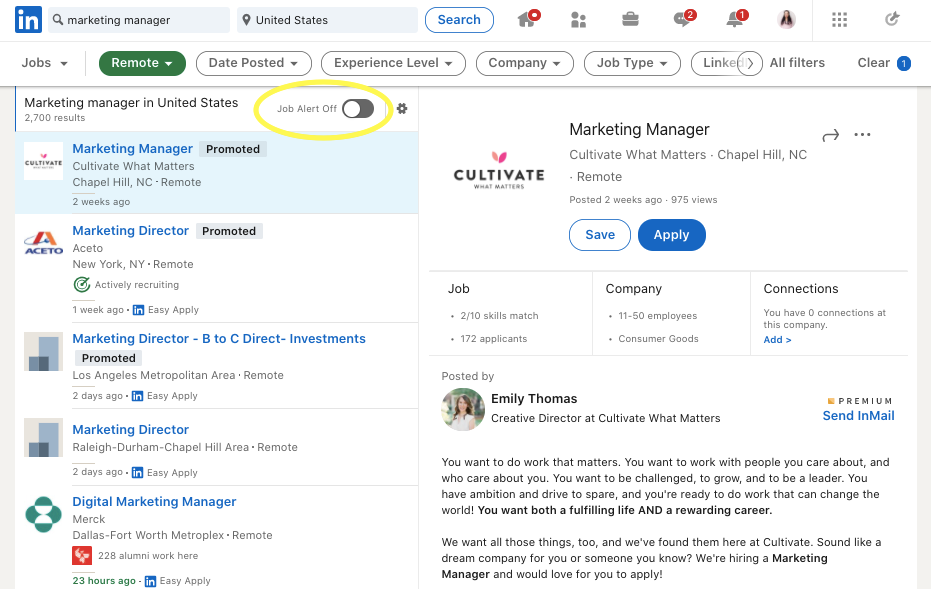 The key to finding a job using LinkedIn is to focus on three areas of optimization.
Increase Visibility through profile optimization and interacting with others

Use search and alert functions consistently.

Follow and Engage With Companies and Employees You Want to Work With
When it comes to finding Remote Jobs Using LinkedIn it's better to reverse engineer the process. Instead of searching for jobs using LinkedIn's search follow companies and their employees that routinely hire remotely. Then create job alerts for those specific companies.

Be sure to subscribe for more remote job tips and resources.